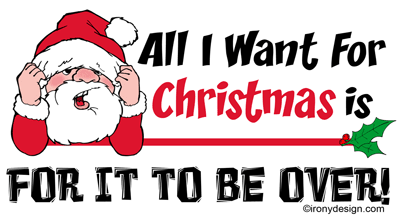 A New Age Christmas?
Friday, Dec. 27th, 2013 (4775 views)
T
raditionally, the Christmas season is a time for people to visit family and friends, go from house to house and spread good cheer. Many people have Christmas parties, work parties, spouses work obligations, kids Christmas concerts, and every other party, celebration or gathering I am forgetting because I usually don't go. Writing all of this is making me exhausted.
In the past I have hosted the annual family Christmas dinner. A month of planning and preparation, a minimum 300 dollar price; all while working until three days before Christmas. There is always the mad dash to clean the house and reminding the girls not to leave any finger prints, make sure they keep their rooms clean and get all the cooking done to feed 20 people. The big day arrives and I am so busy cooking that I don't get to enjoy the guests, unless they are in there helping prepare the meal. "So how are you doing, can you pass me the masher, that is great, yes the bowls are in the cupboard" makes for a delightful, intriguing and insightful conversation on how the mashed potatoes are coming along. Everyone devours the meal and it is over in 20 minutes and the clean up starts. I get to have more riveting conversations with my guests, "how is your son doing, do you want to take some turkey home, you must be so proud of him, how about some mashed potatoes and gravy?" 40 minutes later the kitchen is only a semi disaster.
The gifts are about to be opened and I should really hurry because I am going to miss all the excitement. The food is stacked precariously in the fridge or on the counter praying that the dog does not run through the kitchen with his tail swishing or there will be a food avalanche. Watch people open gifts ohhh and ahhhh..... and everyone starts to pack up. With hugs and people saying "we should get together to catch up". Less than 3 hours later Christmas is over at my house but there is now 2 days of getting the house back to "normal".
In the morning kids open gifts and then off to get dressed before noon.... We have another Christmas dinner to go to and we must hurry or we will be late. Mad dash for showers and get into good clothes.... " Yes, I know it would be fun to stay at home and play with your toys and watch a movie but we have to go and yes we will go boxing day shopping" Come home 8 hours later exhausted still looking at the semi mess put a movie on the for the girls and fall into a deep sleep. Merry Fucking Christmas.
HOWEVER,
This year something strange and wonderful happened to me.....
I made Christmas goodies and we got to eat them before Christmas eve, it was heaven and sinful all at the same time. It had the feeling of trying to sneak them out of the container without getting caught but you didn't get in shit when they were all gone.
The people I live with had places they had to be on Christmas eve, I was invited and I turned down the invitations. Normally this should have made me sad, but it did not. I watched people dash around the house to get their stuff together, make sure they did not forget anything and run out the door. I had music playing and dancing around the kitchen in sweats and a hoodie.
My daughter had to work Christmas eve, she came rushing through the door, asked me if I had all her gifts that she needed to take as she was changing out of her work clothes into good clothes because she was extremely late. This year she was double booked for Christmas dinners and was trying to juggle both places. She grabbed the bag of gifts, seeming a little stressed as I waved bye to her and continued to relax.
Christmas morning, I slept in, much to the chagrin of my daughter, opened presents and then 20 minutes later she was getting ready to leave again. I asked where she was going. She said had another Christmas dinner for noon. What the hell, why? Her boyfriend's mom had two dinners because - she had prepared so much food she just wanted it to be done and over with so she could enjoy the rest of her holidays before she had to go back to work.
This is the reason why we had pizza for supper on Christmas, I loved it. I did not spend hours cooking a meal to be eaten in 20 minutes, I did not have to clean for hours before or after. I would have ordered pizza but for some reason pizza places do not think they should have to be open like Chinese places. I must say the only thing I missed out of the big family meals is cabbage rolls, my daughter's friend rectified that and delivered me a big plate.
My daughter got her beloved xbox and for Christmas, it is now 4 days after Christmas and she has yet to open it. She has been so busy running around on Christmas meeting obligations and working she has not had the time to even play a game on it.
What is the meaning of Christmas? Is it supposed to be where you spend time with friends and family? If so to what extent, do you really get to spend quality time with them and you are so exhausted trying to meet obligations that you are not taking care of yourself. How many people say they are glad Christmas is over with?
Is it to celebrate Christ's birth? we know that there is huge controversy that he may have been born in the Spring, are now celebrating a bi yearly birthday?
Is it a day to enjoy yourself and what you would like to do? without feeling guilty, having undue pressure or demands, feel rejuvenated, spend time with your family and maybe even play a game or two together as a family (yes I think people still spend quality time together)?
I found my meaning of Christmas this year, it was such a low key event, no dashing out to places, no cooking or cleaning for weeks. I made goodies because I wanted too and because we wanted to eat them. I think making goodies for Christmas eve is a waste between all the other food and it is overkill. I spent my holiday doing what I wanted, enjoying the tranquillity around me playing with my gifts (yes I do love my electronics), spending time curled up on the couch watching movies half the night with people I care about and being thankful for what I have.
Comment on A New Age Christmas?
Current Discussion